So I know I'm in the middle of a 30 days of Blogging challenge (a person challenge) but I've also decided to partake in a challenge called the 15 Day Challenge by Sarah @ Life of Love.
Depending on the day and how I'm feeling, I think I will do this in connection with my 30 days of blogging. So if I feel like writing about something else, there might be 2 posts a day (the 15 challenge prompt and what I want to write) but on the days where I can't think of anything to write about, my 15 day challenge prompt will be my main entry. Get it? It's not important, the only thing you need to know is that for the next 15 days of my 30 challenge, I WILL have something to write about!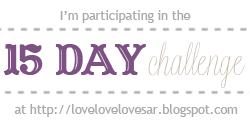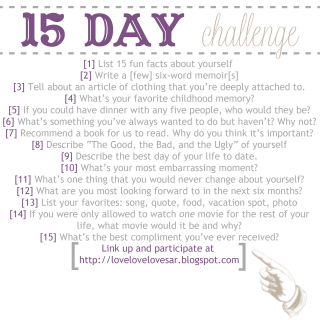 So as it is day one, the prompt is….*drumroll* FIFTEEN fun facts about me!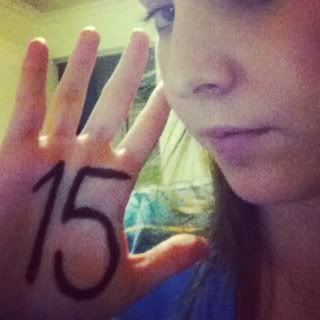 | | |
| --- | --- |
| 1. | I was born in South Africa. |
| 2. | I've been scared of Dolls for…a really long time. |
| 3. | I have 3 visible scars (Lip, Ear & Index Finger). |
| 4. | I've had my belly button pierced 3 times, but only 2 piercing holes remain. |
| 5. | I hated eating in public as a teenager, not because of weight issues, I just didn't like feeling like people were watching me. |
| 6. | When I was little, I couldn't wait to be an adult so I could buy "100 Happy Meals" and eat them all (never going to happen). |
| 7. | I can eat a Jalapeño without any problem. |
| 8. | I had braces when I was 12. Actually, that's not a fun fact, that was torture. |
| 9. | I use to love hats growing up. I ruined my mothers wedding hat and I loved to explore my grandmothers old hat collection. |
| 10. | I started my Primary School Netball team because I hated Gymnastics and the soccer team was too selective and they were the only two options at the time. |
| 11. | I use to love Pumpkin, then I hated it and now I love it again. |
| 12. | I can't eat red apples without wanting to amputate my stomach afterward. |
| 13. | I skied down one of the highest mountains in New Zealand, without ski poles. And I was 11. |
| 14. | I love the smell of a good coffee. I just can't stand the taste of ANY coffee. |
| 15. | My favourite scent is Cherry Blossom perfume. |
Ta-Da. That's 15 fun but random facts about me. Anything I should know about you?